Immediate Telehealth Appointments Available!
Wellness Matters is able to provide therapy totally online! Like many medical clinics, you will be given access to our easy-to-use Client Portal for transmitting paperwork and messages. If you choose to do your therapy session on your computer, there is no software to download! And, if you choose to use your smart phone, there is a free App for downloading.
Our on-line tele-medicine platform is HIPPA compliant and are covered by insurance at the same level as in-office visits. Wellness Matters accepts most insurances, including Aetna, BCBS, Cigna, Health Partners, Preferred One, and more – see "Payment" tab for more information.
Why Choose Wellness Matters?
"Wellness encompasses a healthy body, a sound mind, and a tranquil spirit. Enjoy the journey as you strive for wellness" – Laurette Gagnon Beaulieu
As "Health Therapists," we provide an integrative wholistic approach to support you in maximizing your mental, emotional, physical, spiritual, and relationship health. We cater to people who value their privacy.
Location, location, location!
We offer a uniquely confidential, comfortable counseling experience. Our location was purposefully chosen with convenience and privacy in mind. We are centrally located in downtown Park Rapids, MN. Our convenient location between Arvig Communications and the Armory on Hwy 71 is combined with a discrete entrance on the west/back side of the building. This unique feature allows you to park anywhere downtown, if you prefer anonymity, or in front of our entrance off the alley, if convenience is most important.
Your privacy matters to us!
Wellness Matters was designed with your desire for privacy in mind. We do tele-Health, tele-medicine, e-health, virtual-health, or whatever you want to call having an appointment via smart phone, tablet or computer! If you have one of those devices and use e-mail, we can connect with clients all over the state of Minnesota.
Wellness Matters LLC has a robust, HIPPA-compliant electronic health care record system which allows remote, electronic completion of all necessary documents. We can communicate via encrypted, HIPPA- compliant e-mail. Both clients and clinicians can upload and securely share documents. At the time of the appointment, clients "connect" with their therapist through one's e-mail with each session having a unique link.
For face-to-face services, you don't have to worry about entering a bustling lobby full of people. We are a small clinic that will not expand beyond our present two office configuration. To further maximize privacy, we have "off set appointment times" (i.e., one therapist starts appointments "on the hour" and other "on the half hour") in order to limit the number of people in the lobby. All currently recommended Covid-precautions are followed for in-person services.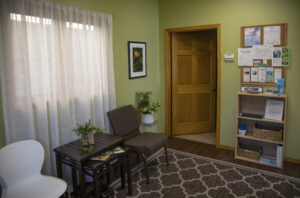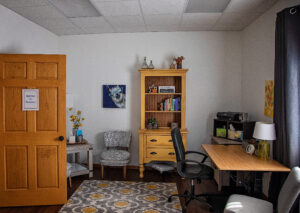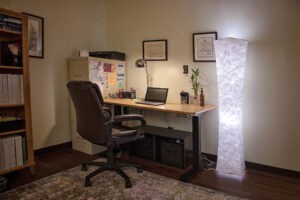 A comfortable, counseling experience!
From the moment that you enter our small clinic, you will notice the calm…and the quiet. We encourage you to sit back and relax. We have a self-serve beverage center that features coffee, tea, cider and hot chocolate. Need to hydrate? Use our water cooler to re-fill your water bottle. Free wi-fi and a USB wall-charger add to your convenience and allow you to leave the bustle of the outside world outside of the clinic.
Convenience matters!
Wellness Matters recognizes how busy life is and how difficult it can be to get support at a time and in a way that meets your individual needs.
We are able to see new clients within one week of completing the intake process. Completing the intake documents on-line is easy and convenient. Call Intake Coordinator Emily at 218-616-1276 to get started.
"Recurring appointments" (i.e., appointments consistently on the same day at the same time) may be available to clients who consistently attend scheduled appointments without any late cancels or "no shows".
Evening may be available for people needing to work around a non-flexible work schedule or who are traveling.
"On-line" appointments are available! Please see the "On-line" tab for more information.
Wellness Matters Providers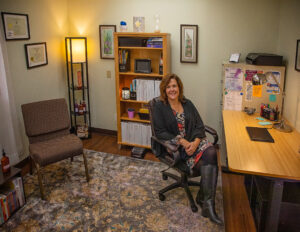 Rita Anderson, MA
Owner/Founder of Wellness Matters LLC
Licensed Professional Clinical Counselor
Licensed Alcohol and Drug Counselor
Do you feel stuck?
Do you feel like you have lost yourself? Have you been taking care of everyone else to the neglect of self? Are you lonely and unfulfilled despite the appearance of the opposite? Are the choices of your parent, partner, or child "driving you crazy"? Are you ashamed or afraid of your health condition being out of control? Are you tired of knowing what to do but unable to "just do it"?
I take a practical approach to therapy. I quickly "separate the wheat from the chaff" to quickly identify key concerns that can be targeted for immediate improvement. I am proficient in coping skill development for improving health and happiness. I help "pull back the curtain" of family dynamics and assist in identifying choice points for new ways of responding to create new outcomes.
In my life, I have personally experienced family dynamics which include a blended family, physical disability, poverty, substance misuse, co-dependency, loss of both parents, and loss of a family member due to an impaired driver. I have also experienced shift work (9 years), stressful working conditions (i.e., adult corrections), living out of state, relocation after retirement, and starting a new career.
I graduated from Clarissa High School and received my B.A. in Justice Studies from the University of Alaska – Fairbanks in 1986. Following a 20-year career with the Alaska Department of Corrections, my husband and I returned to MN. I obtained my Masters degree in Addiction Studies: Advanced Practice in 2014 from the Hazelden Graduate School which afforded me the opportunity to become dual-licensed as a Licensed Alcohol and Drug Counselor (LADC) in 2014 and a Licensed Professional Clinical Counselor (LPCC) in 2017. I am a board certified LADC Supervisor and am a board certified LPCC Supervisor. In 2019, I opened a small, private clinic offering mental health therapy and substance abuse counseling in a convenient, confidential, and comfortable setting to optimize health, healing, and happiness.
Contact Wellness Matters for a free 15-minute consultation or to make an appointment:
Tap here to call Wellness Matters LLC for more information (218) 616-1276
---
Sandy Espe, MA
Therapist/Contractor
Licensed Professional Clinical Counselor Candidate
Sandy Espe, Licensed Professional Clinical Counselor Candidate
Do you struggle with the stress of day-to-day living?
Are your relationships with friends, co-workers, and family members not as satisfying as they could be? Are you dissatisfied at work? Would it be helpful to talk to someone about your faith but don't want to necessarily talk with a pastor or priest?
I take an integrated approach to therapy, using the latest techniques to work with clients to improve overall wellness. Whether you are meeting with me as an individual, part of a couple, or part of a family, we will work together to establish goals that will lead to desired, achievable results. Because faith is an important part of my own life and I, too, struggle with the brokenness of being human, I sought professional schooling that would afford me the privilege to serve people with faith issues.
My specialties include:
career advancement
couples and family counseling and parenting support
spiritual counseling
Having grown up in rural North Dakota, I earned a B.A. in Business Education and English in the mid-1980s. I have over 30 years of experience working with students at all levels—elementary, middle school, high school, college, and adult education. I taught courses in business education and English and served as a career counselor and a school counselor. I earned a Masters degree in Career and Vocational Education from the University of North Dakota and facilitated the Parents Forever class offered through the NDSU Extension Service for over 25 years. After our youngest daughter graduated from high school, I pursued Masters degree in clinical counseling.
With experience as a Certified Global Career Counselor, I am knowledgeable and experiences at providing Career Coaching to people of all ages. I personally understand both the process and challenge of changing careers. My approach is to gather information from a variety of career resources to help you make decisions about your future. For those in transition to retirement, my approach is to assist in finding other ways to find purpose in life beyond earning a paycheck.
As a trained Parents Forever™ provider with 25+ years of experience, I supported parents who were married and seeking divorce or never married but were then separating. I know the impact on children both from my Parents Forever™ training, as well as from my own experience of divorce and re-marriage.
I use a non-judgmental, empathetic approach and think of each person as an important child of God. My Masters program included specific education and training to be able to counsel you as you work through your struggles or issues related to faith or spirituality. As a Christian, I also have had issues related to feeling broken. I believe that God has provided opportunities throughout my life to serve others and I am humbled when able to do so.
Tap here to call Wellness Matters LLC for more information (218) 616-1276
Tap here to request an appointment online
—————————————————————————————————————————————————————
Katherine (Kat) Fritsch, MA
Therapist/Contractor
Licensed Professional Clinical Counselor
Licensed Alcohol and Drug Counselor

What are your struggles?
Kat Fritsch, LPCC, LADC
Do you worry a lot?
Have you been told you have a problem with alcohol or drugs?
Do you wonder if you do?
Do you feel like your past defines your present and your future?
Do you wish you could talk to someone who doesn't judge you?
How hard is it to find a little peace and serenity while you work, parent your children, laugh with your significant other, talk to friends, help parents, take the dog out, and wash the dishes? These may not be exactly your stressors but we all have stressors that can take over. They sometimes cause us to forget who we are and what is truly important for us.
There are many approaches to treatment. And many therapeutic techniques that may help with life's challenges. I believe that a therapist who listens might be able to assist those who want to find the right tools to reach personal goals. My treatment specialties include:
Codependency
Communication
Finding hope
Relationship building
Shame
Substance use
Trauma
I grew up in the Twin Cities, MN, metro area. My life experiences allow me to see where the hurt exists and how to work through to gain a different future. I worked in the for-profit and not-for-profit industries for 18 years. I spend many of those years in management. I am aware of the stress caused by fast paced jobs. And the struggle to balance a personal life at the same time. I also understand the challenges of not having work or not having the work that one wants. The stressors of life can trigger a lot of relationship issues, including relationship with self. Past traumas, losses, and fears of the unknown may try to rule our lives.
These are all things that can be managed and that is why I focus on you. Your life is complicated. I focus on helping you sort out your dreams and hopes. People have asked me why I left an interesting corporate career to work as a counselor. The answer is easy for me. I want to assist others to realize their own power. And, to have a positive, empowered life. I earned my Masters Degree in Addiction Studies: Advanced Practice in 2017 from the Hazelden Betty Ford Foundation Graduate School. I was licensed as an Alcohol and Drug Counselor (LADC) in 2017 and as a Licensed Professional Clinical Counselor (LPCC) IN 2019.
Now is the time to find your own calm in a world that does not slow down. The ability to understand and find yourself may lead you to face life with confidence.
Tap here to call Wellness Matters LLC for more information (218) 616-1276
_________________________________________________________________________________________________
Emily Pierson, MEd
Therapist/Intake Coordinator/Contractor
Licensed Professional Counselor

Are you struggling to adapt to life changes?
Are you finding that life is throwing you a curve ball? Have you noticed that you or or family members have had more difficulty than usually successfully navigating life transitions? Have you noticed more signs of stress, anxiety, or depression in yourself or teenager? Do you feel "I should just be able to handle this?" Are you worried that things are not getting better?
Whether life changes are expected or unexpected, they can be overwhelming. Pile them on top of day-to-day stressors and they can seem insurmountable. Stress and disrupted routines sometimes prohibit you or your teen from living a normal, healthy life. I know where you are coming from! I have experienced the challenges of overcoming unwelcome changes.
I understand the difficulties of managing life transitions. I want to help you (or your teen) find a way to create a happy and fulfilling life. I find it rewarding to assist teens and young adults to manage and alleviate depression, anxiety, school issues, stress, and self-esteem issues. I understand the unique stressors faced by educators and others working in an academic setting.
Having worked in a school setting four years as a school counselor, I have seen and can empathize with the unique challenges faced by teachers and other educational professionals. In transitioning to working in a private clinic, I have brought with me the experience of working in a school setting as well as providing community therapy in a rural setting. I have a passion for helping teens, college-age students, and adults find ways to live a healthy, fulfilling life.
I have experience working with clients on a variety of concerns including:
anxiety
depression
healthy relationships/friendships
coping skills
grief and loss
school issues
social skills
self-esteem
I believe that taking a holistic approach is important. No two people are exactly the same, and therefore our needs are different, and how we process the daily events are different. We all have different family networks, support systems, backgrounds, learning styles, and strengths. I take all of this into consideration when working with clients, and include individuals in finding the best method of treatment for them.
I provide individual services to teens and adults using a telehealth platform. While it differs from traditional face-to-face sessions, telehealth negates the time and resources it takes to commute, and can be accessed from the comfort of your home.
Trauma Treatment
Some traumatic events stick with us. When you think about these moments, they may feel as if they are happening 'right now', causing your body to have an adverse or exaggerated reaction to daily interactions. When this type of response happens, it can mean that your brain has stored unprocessed memories, events, and information in an unhealthy way. These unprocessed memories may lead you to think that you are not good enough, unlovable, or unsafe in everyday situations, which can in turn lead to feelings of anxiousness, depression, or stress. Eye Movement Desensitization and Reprocessing (EMDR) therapy helps your brain to process these memories in a healthier, more realistic way. EMDR uses bilateral stimulation through eye movements or tapping to access these memories and reprocess them appropriately.
In May of 2022, I completed my basic training course in Somatic and Attachment Focused EMDR with the Personal Transformation Institute. This approach to EMDR therapy focuses on how early attachment patterns and body responses affect a person's trauma response. I am currently working through the advanced certification process (expected to complete in March of 2023). In addition to traditional talk therapy, I have found EMDR to be effective in reprocessing negative experiences and traumas. It's not always easy to process grief, sadness, hurt, anger, embarrassment, and other hard emotions, but I'm willing to walk this journey with you, and help you get back to being your best self!
When not working with clients, I also enjoy blogging. Please check out the "Wellness Blog" tab on this website to see my articles on a variety of subjects:
When to Worry about Worrying
Fast Facts About Mental Illness in Children and Teens
Navigating High School
The Impact of COVID-19 on the High School Experience
Helpers Needing Help
Teachers – Your Health Matters Too
Holidays: Stressful or Relaxing?
Managing Depression
Depression: What is that Dark Cloud?
Becoming a Parent: It Changes Everything
A Growing Family: What to Talk About Before Baby Arrives
We're Pregnant! That's scary….
If you have a topic that you would like me to write about, please e-mail me at emily@wellnessmattershealth.com and I will see what I can do!
Being an outdoors enthusiast, I enjoy being outdoors, hiking, fishing, exercising and spending time with family, friends, and my cow dog, Chewy. I'm an avid sports fan, and love to find new ways to focus on health and overall wellness.
I truly believe that growth, change, and joy are possible to have in life. Sometimes we just need a little help. I look forward to getting the opportunity to work with you or your child soon.
Contact Wellness Matters for a free 15-minute consultation or to make an appointment:
Tap here to call Wellness Matters LLC for more information (218) 616-1276
---
The Wellness Matters Vision, Mission, Values and Culture
"Health is a state of body. Wellness is a state of being." J. Stanford
Vision:
To support an integrative approach for improving the overall health and wellness of our clients and ourselves.
Mission:
To optimize wellness in people who:
want anonymity when accessing services
prefer services be delivered in a convenient manner (i.e., in-office, in-home or on-line)
are struggling adjusting to or effectively managing parenting, illness, chronic medical conditions, medical diagnoses, work problems, relationship problems, spiritual conflict, caregiver burnout, or death of a loved one
"know what to do" but struggle with implementing health supporting behaviors
"The journey of a thousand miles begins with one step." Lao Tzu
Core Values and Culture:
Wellness Matters staff replace the "therapist as the expert" mentality with the "client as the expert" and work collaboratively with clients and their support system toward improved health and wellness.
Request an appointment online
Social Media and Internet Guidelines
This section outlines Wellness Matters' practices related to the use of Internet and Social Media.
We believe that it is important that clients and prospective clients know how Wellness Matters staff conduct ourselves as mental health professionals while using the Internet and Social Media.
These guidelines are in place in order to promote protection of client confidentiality.
These guidelines help to protect our therapeutic relationships with clients so that they remain intact and in accordance with ethical guidelines.
If you have any questions about our Internet and Social Media guidelines, we encourage you to bring them up when we meet. As new technology develops and the Internet changes, there may be times when we need to update these guidelines. If we do so, we will notify clients of any changes.
Tap here to call Wellness Matters LLC for more information (218) 616-1276
Friending
Wellness Matters staff do not accept friend or contact requests from current or former clients on any social networking site (Facebook, Google Plus, LinkedIn, etc.) as outlined by the American Counseling Association guidelines.
Fanning
You are welcome to view our Facebook pages and read or share posted articles; however, we do not accept clients as fans of our Facebook pages. We believe having clients as Facebook fans creates a greater likelihood of compromised client confidentiality, and we feel it is best to be explicit to all who may view our list of fans to know that they will not find client names on that list.
Following
We may publish a blog on our website. We have no expectation that clients will want to or need to follow the blog.
Twitter
Please note that we will not follow clients on twitter feeds. We may follow other health professionals on Twitter. If there are things from your online life that you wish to share with us, please bring them into our sessions where we can view and explore them together during the therapy session.
Interacting
We recommend against using SMS (mobile phone text messaging) or messaging on social networking sites such as Twitter, Facebook, Google Plus, or LinkedIn to contact Wellness Matters staff as these sites are not secure and we may not read these messages in a timely fashion. Wellness Matters' clients have access to a HIPPA secure messaging system through their client account – it is recommended that clients use this messaging system to contact Wellness Matters' therapists.
Email
If you choose to communicate with Wellness Matters staff by email, please be aware that all emails are retained in the logs of Internet service providers. While it is unlikely that someone will be looking at these logs, they are, in theory, available to be read by the system administrator(s) of the Internet service provider. Wellness Matters' clients have access to a HIPPA secure messaging system through their client account – it is recommended that clients use this messaging system to contact Wellness Matters' therapists.  You should also know that any emails received from clients and any responses become a part of the client legal medical record.